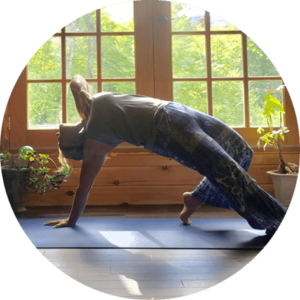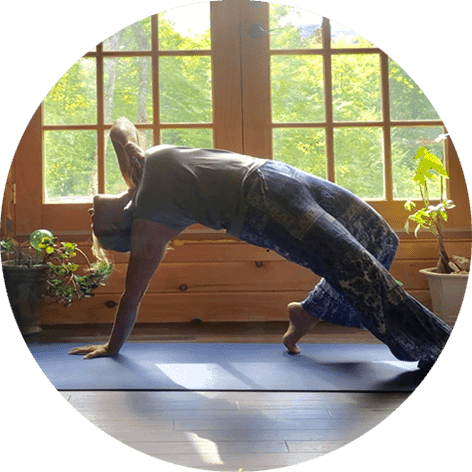 Meet Mim
Mim is an avid and devoted yogini, with six years of daily practice upon which she is now building her own teaching practice. Having discovered yoga after being a regular gym-goer for twenty years, Mim quickly felt the transformative effects of this practice in her own life. Drawn primarily to power flow yoga, Mim spent three years at Power Yoga of Cape Cod, continuing to marry her love of fitness and strength with the overall therapeutic effects of the practice. Having recently moved to Stratford, New Hampshire, Mim has joined our community here at Heart Space Yoga studio and is now enrolled in the 2018-'19 Heartspace Yoga Teacher Training. Through this training, Mim is deepening her knowledge of not only asana, but mantra, mudra and meditation practices, all of which is enriching and deepening her own practice both personal and in teaching.
Mim brings an energy and playfulness to her practice that is infectious and encourages those around her to let curiosity and lightness of heart define their experience with their own asana practice. Her generosity of spirit welcomes any and all into the class space, believing deeply that a fulfilling journey through life comes from honing a strong body and mind, slowing down and being mindful of one's actions toward the Self and others.
Come join Mim for her Wednesday class, where she will certainly test your strength and courage, but with an open and playful heart! She also has an extensive knowledge of modifications and variations to make her classes available to ALL LEVELS! So, come work hard, laugh and rejuvenate with Mim!
Classes will focus on but not be limited to:
Creative Flow with music
Strength and building heat
Breathwork
Corework
Meditation