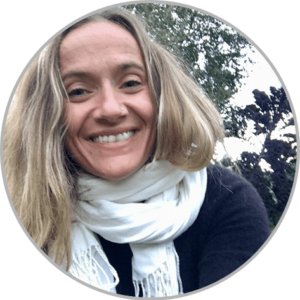 Aliea Anderson
I am Aliea, mom to a vibrant six year old boy, a lifelong student of yogic philosophy, and a current student in the Heart Space Yoga Teacher Training with Andrea. The daughter of a dancer and educator, and a dancer and athlete myself from a young age, the connection between movement, the body and breath have always been fundamental to my experience in the world. However, life and all the experiences along the way have taken their toll on me physically, as it does for so many of us. It was not until the physical effects of many years of complex traumatic stress showed up in debilitating symptoms that I fully embraced the asana practice of yoga to help mitigate imbalances in my nervous system.
As a result, I also began deep inquiry into the psychophysiology and neurobiology of trauma through the Health Arts and Sciences degree program at Goddard, taking careful note of my own personal path of healing through physical therapy, yoga and naturopathic medicine. One of the most compelling resonant facets of these studies for me has been undeniable impact that community has on our individual ability to heal and feel supported in that process. I feel passionately that our sense of responsibility for one another is essential to the healing and wholing process of not only the individual but the greater world. In alignment with many of the indigenous cultures throughout the world, I feel the crucialness of contributing to the weaving of a strong and vibrant community with the intention of making it possible for us all, as individuals, to fully and vitally live our own Truth.
Having taken a period of deferment from my studies due to a re-emergence of some health imbalances, serendipity has stepped in, creating the opportunity for me to join and support Andrea in her efforts to continue to grow and expand Heart Space as a place for the community to heal and grow. This alignment of timing and opportunity feels like such a blessing to me, and I am both honored and inspired to see where this journey leads!
I look forward to meeting, speaking with and seeing you all around the studio in time to come!